INSTALLATIONS
EasyGo will advise on the best location for your system, the correct base for the dispenser and the position of electrics. Installation is carried out by trained installation engineers and usually completed within half a day. The system is bolted into the base and runs on only 22 volt power making it secure and safe to use.
SERVICE AND SUPPORT
Whilst the system is under the contract, EasyGo will provide a full service and support programme including restricted replacement of stolen or damaged trolleys depending on the
circumstances.
COSTS
These are usually based on the number of trolleys and hires and will be confirmed by quote following your enquiry.
SYSTEM INSTALLATION EXAMPLES

ASTON WOOD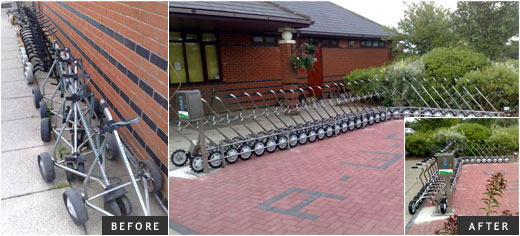 BOTLEY PARK MACDONALD
HAMPSHIRE - 25 trolley system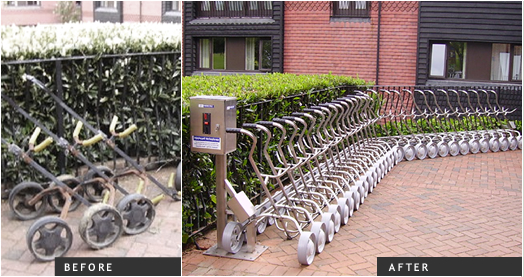 BRENT VALLEY - MyTime Active
Greater London - 32 trolley system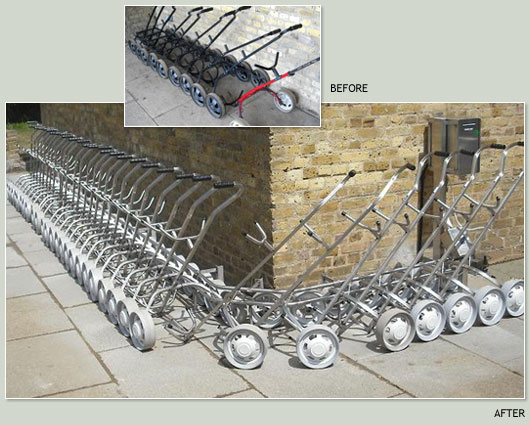 CAERNARFON
North Wales – 20 trolley system

CARDEN PARK DEVERE
CHESHIRE - 30 trolley system

CHELSFIELD LAKES - Crown Golf
Kent - 24 trolley system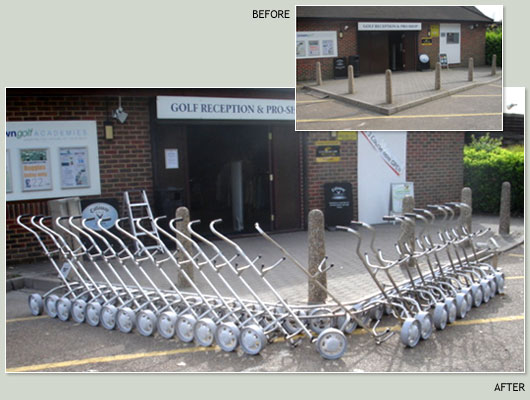 HEVER CASTLE
KENT - 25 trolley system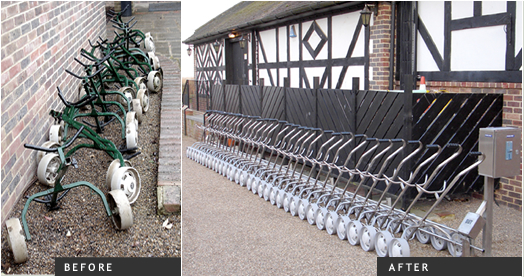 HUDDERSFIELD (FIXBY)
Yorkshire - 25 trolley system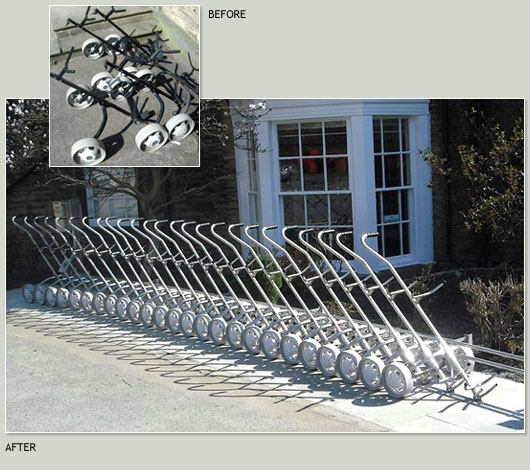 PORTAL PREMIER - MACDONALDS
Chesire - 28 trolley system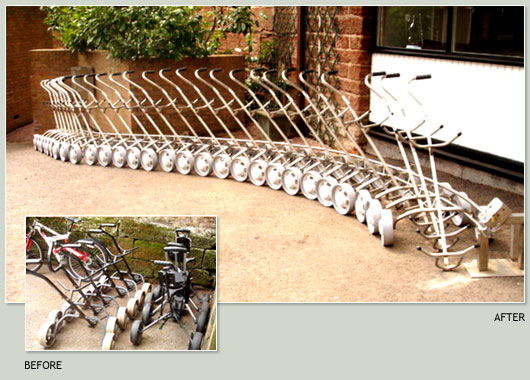 LULLINGSTONE - SENCIO
Kent - 26 trolley system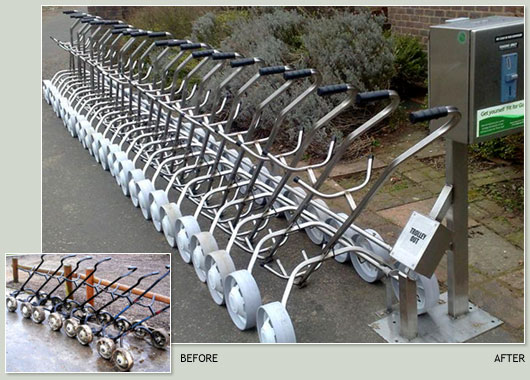 NEFYN
30 trolley system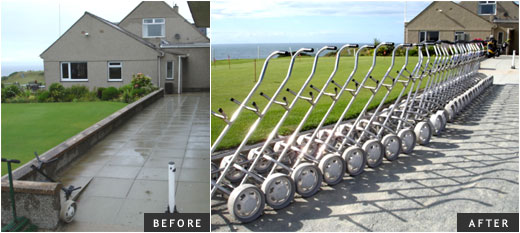 SAUNTON
Devon - 35 trolley system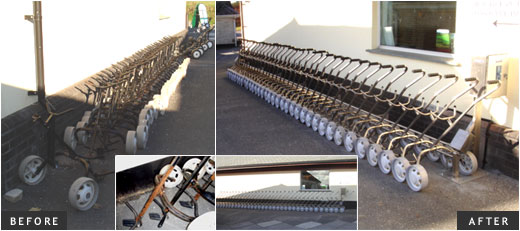 ST ANNES OLD LINKS
Lancashire – 36 trolley system

SOUTHAMPTON
Hampshire – 26 trolley Grasshopper system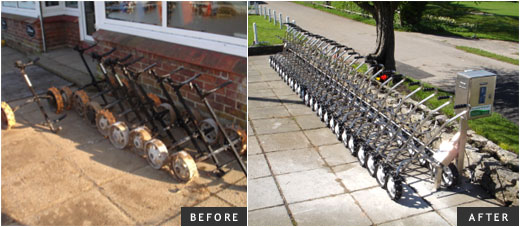 STUDELY WOOD
Dorset – 25 trolley system

TENBY
South Wales – 28 trolley system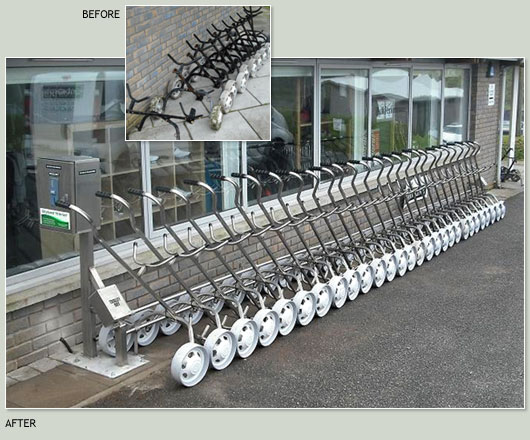 TUDOR PARK MARRIOTT
Kent - 27 trolley system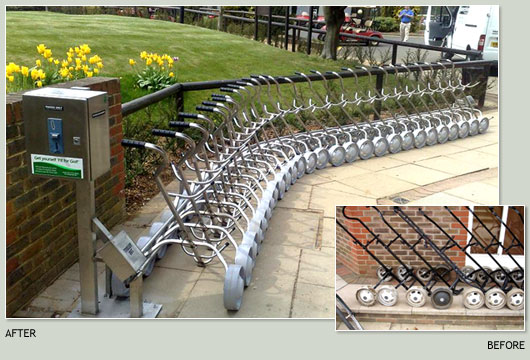 WOODHALL SPA - EGU Headquarters
Lincolnshire – 40 trolley system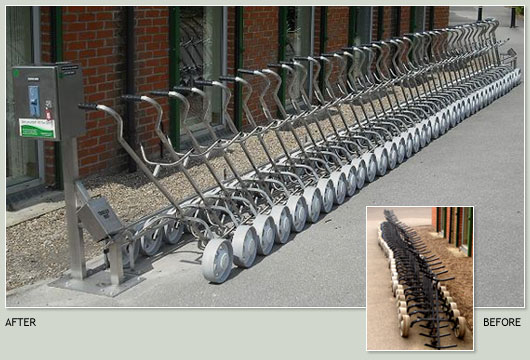 DEVERE WYCHWOOD PARK
Cheshire - 30 trolley Grasshopper system

LOOSE TROLLEY INSTALLATION EXAMPLES
NAUNTON DOWNS
Gloucestershire – 24 loose trolley Grasshopper system

RUDDING PARK
Yorkshire - 25 loose trolley system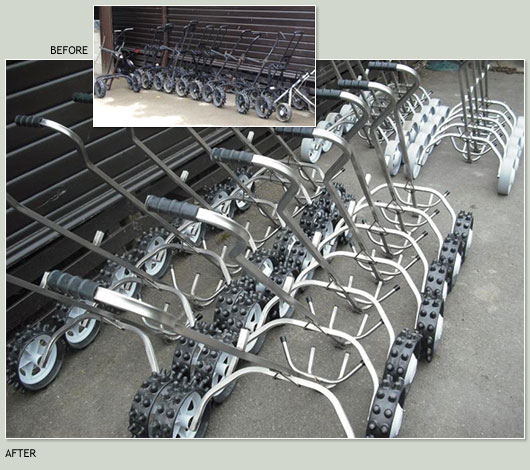 THE BERKSHIRE
25 trolley system